As most of you know, I've really been craving a creative outlet lately, and I feel like if I need it, then there must be others out there that feel the same way too! In addition to my series of Textile Painting Classes with Casey Sibley, I've added in a Decorative Mending Class series with Sarah Lillegard too!
All too often I come across a stellar piece of vintage clothing to see that it has an unsightly hole or stain. But me being me, I'm just not able to throw it away. I've done a little decorative mending myself but I certainly don't have the breadth of mending knowledge that Sarah has.
From Sashiko, a traditional Japanese mending technique, to making our own patches from vintage fabric, we will be learning all sorts of awesome skills to save our favorite clothing items from the landfill--all while cozying up on our favorite vintage couch with a glass of wine and good company!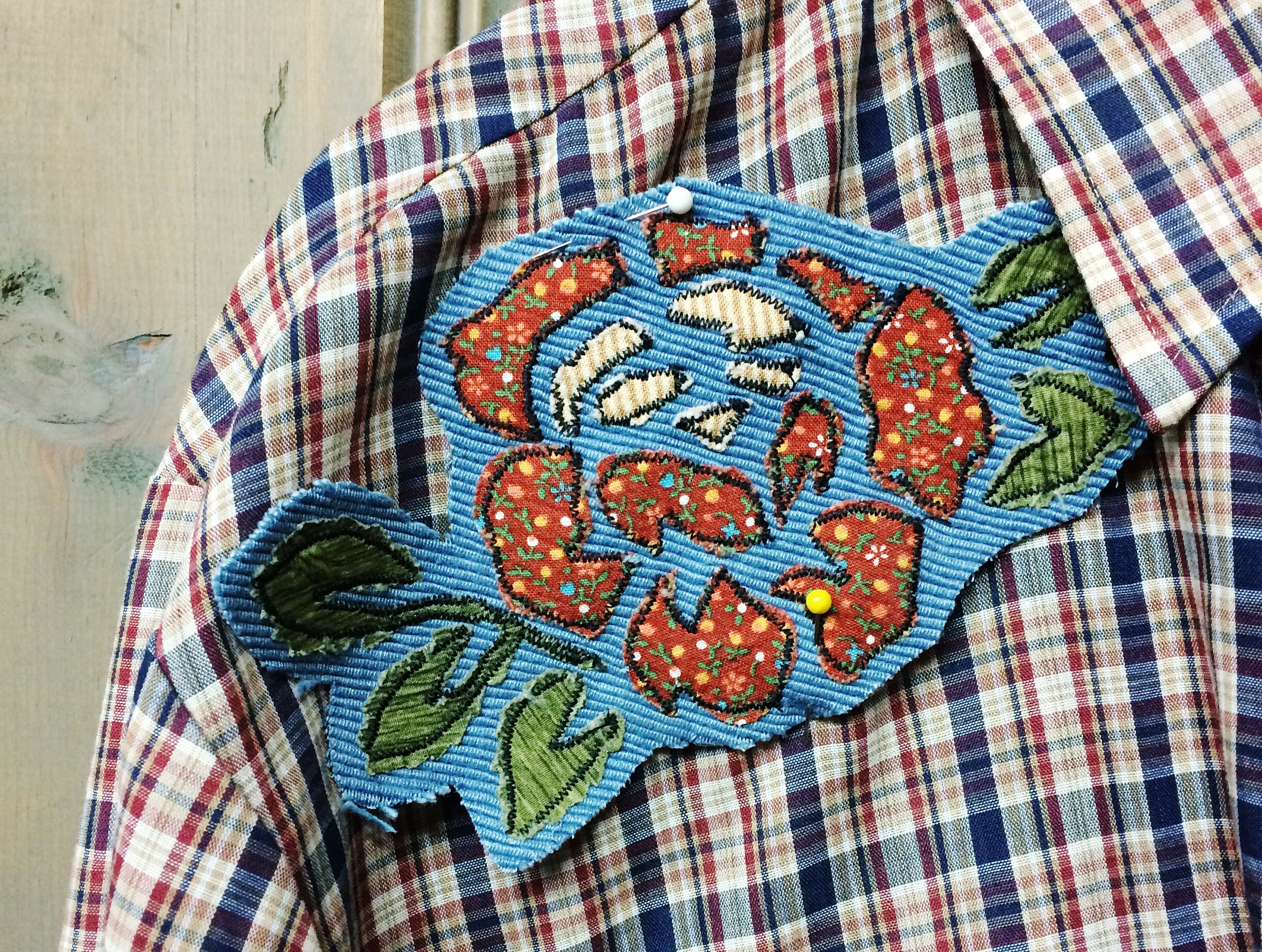 DIY Patch Making:
Wednesday, December 13th.
6-7:30pm
Come spend the evening making your own custom, vintage fabric, patches to adorn your own garments or to give away as a unique Christmas gift.
Cost:
Day of ticket price: $35. Advanced ticket price: $30. 2 class pass: $55. 3 class pass: $75.
Email tessa@thenestreno.com to reserve a spot and for payment instructions.
meet sarah
Hi Sarah! First of all, I'm so excited for you to come and teach us how to bring new life to our old clothes through decorative mending techniques! But let's get to know you a little bit first...
I grew up in Gardnerville, Nevada, raised by parents who taught themselves everything from patterning backpacking equipment to passive solar landscaping. Through them I learned how to sew, what's under my car's hood, and an avid love of making. After going to college in Walla Walla, Washington, I moved to Reno and solidified a growing hunch that my roots are dug deep in the Great Basin. My perspective, aesthetics and interests are set to this landscape and its history. As far as the nuts and bolts of things go, over the last ten years I have avidly sought ways to be involved with, and support this community I live in. I've co-founded a 'zine collective; ran the galleries for the Holland Project and Sierra Nevada College; coordinated Rogue Art+Craft market; and am currently finishing up my MFA in Interdisciplinary Arts through a low-residency program at Sierra Nevada College.
You seem to me like a jack of all trades when it comes to crafting. What is your specialty?
That's a tough one. I am hungry to learn— everything, all of the time. Maybe the best way to narrow it down, would be "fibers and needlework". This spring, I found a needlework piece at my aunt's house that I made when I was 7. Needlework has the longevity. Fiber has the obsession. Three years ago, I attended the Wool Symposium in Point Reyes, California. From that day on I became an avid wool enthusiast and have now learned handspinning, sheep shearing, natural dyeing, and am cutting my teeth on weaving (with the incredible support of the Reno Fiber Guild).
What drew you in to crafting?
I know of no other way. My mom's a quilter and my dad is a contractor raised by a cabinet maker. It's steeped in me to both make things by hand and seek out work made by others' hands. I can get real romantic about crafting and the handmade... but to spare you, I'll just say that things seem to make more sense to me when they are part of a tactile experience.
I couldn't be more excited about these classes because you are such a great, laidback teacher! Why does teaching call to you?
So often with crafting, the starting point is the most intimidating. If someone just gives you the right explanations and tools, the wheels start moving. Through teaching workshops, classes and demonstrations, I feel like I get to share some of those starting points. With that, I am so excited to share some ways to decoratively mend clothes. It's going to be three evenings of cozying up on vintage couches, talking stitches and adding a little life to some well worn clothing.